Have you ever wondered what is Joomla and why it is so talked about ? What possibilities opens this content management system and how useful is it for website admins ? What kind of resources it provides to help build and sustain a powerful website ?
Whether it's a dedicated webmaster administering their own website, or a small business seeking better visibility, having an efficient content management system is essential for success. Joomla is one such platform, and it offers a wealth of features and flexibility that make it the ideal choice for many. Research shows that the benefits of using Joomla include improved SEO performance, extended user engagement, and a better organized and streamlined user interface.
In this article, you will learn the power of Joomla and its extensive features. We will explore some functions of the platform which are designed to make your website's content management seamless and efficient. We will also discuss the different ways Joomla can help you optimize and measure search engine performance, and manage user engagement. Finally, we will look into some tools Joomla offers to help you manage the content on your website and enhance its effectiveness.
Whether you are new to website administration, or a seasoned professional in the field, understanding the power of Joomla and its benefits is a must-have, and this article will teach you just that. We will discuss some of the features and techniques that Joomla website admins should know about and use to their advantage in order to optimize their site. With the right understanding and tools, you will be able to take advantage of all content management platforms have to offer.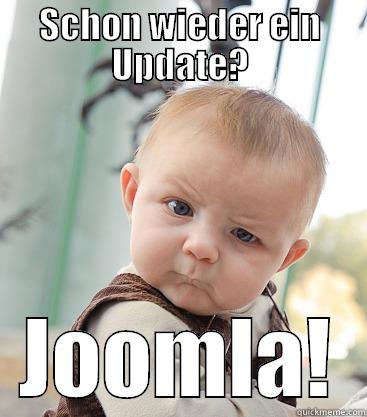 Definitions
Joomla is a free open-source content management system (CMS) used to create and manage websites and other web-based applications. It is based on PHP and uses an object-oriented programming (OOP) technique called Model-View-Controller (MVC). Joomla makes it easier for developers to create complex web applications as well as easier for non-technical users to manage content. It is an attractive platform for creating websites that can be accessed from any systems and devices due to its ability to work with any web-browsers.
Joomla includes a number of features to help website administrators to create and manage their content including templates, modules, components, plugins, and languages. Templates allow for the easy customization of websites, while modules and components interact with each other to create all kind of powerful extensions. Plugins provide additional functionality to websites, and languages provide for multiple language support. Joomla also includes a powerful search engine that makes it easier to find content on a website.
Joomla also offers a variety of different user rights and access levels, so that you can determine which users can view or edit certain pieces of content. It also provides a wide range of security features such as an intrusion detection system, an extensive user security system, and encrypted passwords. Additionally, Joomla supports multiple databases, giving users the flexibility to customize their websites.
Finally, Joomla is highly extensible, and provides developers with a wide range of tools to create sophisticated applications. It is also open source, meaning that users can modify the code in any way as long as it remains open source. These factors make Joomla an ideal platform for creating both simple and complex websites.
Joomla: The Ultimate Content Management System
Joomla: The Ultimate Content Management System
User Friendly Interface
Joomla is an advanced content management system (CMS) that enables website owners to easily create and manage their websites. It is a popular choice due to its user-friendly interface and powerful features. With Joomla, website owners have full control over the content and design of their site. Unlike most other CMS, Joomla is particularly flexible, enabling users to customize pages and add personalized features.
As an open source platform, Joomla is free to download and has an expansive library of design templates and plugins to choose from. All of the available features put the user in control, allowing non-technical users to create an attractive and full-featured website without any coding knowledge. Additionally, Joomla is highly easy to learn, making it a great choice for novice users. Moreover, for website owners who are not interested in creating a website from scratch, Joomla offers a number of ready-to-use templates and extensions.
Highly Secure Platform
Along with its user-friendly interface and powerful features, Joomla is also a highly secure content management system. The platform offers users a wide range of security options, such as advanced user authentication, data encryption, and a robust security framework. Joomla also comes with built-in security features, such as restricted access, secure login, and a secure file transfer system. Additionally, it has an automatic update system that keeps the system up to date with the latest security patches.
Joomla is also well supported, with resources available for both new and advanced users. The Joomla community is composed of vibrant developers, knowledgeable users, and an active forum. For those who require help with the platform, there are also plenty of training and tutorials available online.
User Friendly Interface
Highly Secure Platform
Easy to Learn and Use
Extensive Library of Features and Templates
Robust Support System
In conclusion, Joomla is the ideal content management system for website owners due to its advanced features, user-friendly interface, and highly secure platform. It is a powerful and versatile platform that offers users an extensive library of features and templates and a robust support system. With Joomla, website owners can easily create and manage their websites without any coding knowledge.
Unlocking the Power of Joomla: How It Can Benefit You
What is Joomla and How Can it Benefit You?
Have you ever wondered what Joomla is and why it is an important tool to have in your web development arsenal? As the world's most popular content management system (CMS), Joomla has the power to transform how you build and manage websites, giving you more control and capabilities than ever before.
The Main Problem
The main problem with web development was the lack of control of the content, with most content management systems limiting you to one format or another. This forced web developers to use multiple programs and platforms to add and update content, which is both time consuming and complicated. With Joomla, you can easily manage all of your content in one place, giving you greater flexibility and control.
Best Practices for Working with Joomla
Using Joomla to create and manage websites offers many benefits, including providing users with powerful tools to create dynamic websites. Here are some examples of best practices when working with Joomla:
• Start off by creating a plan: Before you start, take some time to plan out the structure and functionality of your website. This will help you determine what features you need to include and how to go about implementing them.
• Organize your content: As your website grows, it can become difficult to manage all of the content. Joomla offers a straightforward approach to organizing content, allowing you to easily and quickly access the information you need.
• Keep the design simple: Keeping your design simple and intuitive will help visitors find the information they are looking for easily. Keep the elements of the website organized and labeled clearly, and avoid using too many graphics or videos, which can slow down page loading speeds.
• Test often: Regularly test your website to ensure it is functioning correctly and up to date with the latest version of Joomla. This will help you identify any potential bugs or other issues that may need to be addressed.
Joomla is an incredible platform that has the power to revolutionize web development. By following these best practices, you can ensure you get the most out of Joomla and create powerful, dynamic websites that are easy to use and navigate.
The Art of Designing with Joomla: Taking Your Site to the Next Level
Design Strategies for Maximum Impact
Designing a website is like creating a work of art – how do you make an impact and draw in an audience? For websites built with Joomla, it can take more than just a few strokes of the brush to captivate viewers and move them to action. What are the key components to consider for producing a stunning Joomla-based website that pulls on multiple emotional levers and engages visitors?
Using Visuals to Communicate Your Message
One of the most powerful tools to use when designing a Joomla website is visuals. Images, videos and graphics are easily incorporated into a website and can be used to immediately engage website visitors and send a message about your brand. For example, you could make use of high-resolution photos that demonstrate the quality of your service or product. Color schemes and other design elements can be employed to create an inviting and aesthetically pleasing website that also conveys your identity and purpose.
Why Usability Matters in Joomla Design
The usability of your website is critical in terms of creating a pleasant user-experience. Effective navigation and the placement of elements such as call-to-actions are important considerations for ensuring your website is intuitive and user-friendly. It is also important to pay attention to how pages load and consider the technical aspects that can influence a user's enthusiasm, such as page speed.
In addition, carefully researching and considering the preferences of your target audience can help you make design decisions that quickly answer their questions and lead them in the right direction. Implementing techniques that customize the user's experience and cater to their interests can also raise your website's engagement levels.
Applying the Art of Design to Your Joomla Website
Creating the most memorable web presence involves taking the time to understand and consider many factors. Everything from integrating the absolute best visuals to creating the right user flow with well thought out navigation are essential components of a successful website. It demands a certain level of creativity to render the nuances in a thoughtfully assembled design that makes a profound impact on the viewer.
Ultimately the purpose of web design is to capture the audience's attention and provide a visually satisfying experience, that in turn leads to more conversions. To do these, it requires a combination of sites like Joomla to give the needed functionality and strengths, as well as a steady passion for crafting beautiful content.
Conclusion
Joomla is a content management system (CMS) that allows users to create a website with the help of many themes, modules and plug-ins. It is often used for various types of websites, such as news websites, corporate websites, and even e-commerce stores. Joomla has been around for over 10 years, and is still growing in popularity. It is incredibly user-friendly, which means that even those who lack experience with coding can create stunning websites with Joomla. So, is Joomla the right CMS for you?
Thought-provoking question: With so many excellent CMS options available, how can those building a website decide which one is best for them?
Whether it be Joomla or any other CMS, it is important to understand that not all websites are created equal. Every CMS has its own advantages and disadvantages. Those who are considering Joomla should take the time to explore the platform, and find out all of the features it offers. Doing so will allow them to make an informed decision about whether the CMS is right for their website. Furthermore, users should keep up to date with the regular software updates and new releases coming out from Joomla so they can make the most of the platform.
To keep up with the latest developments, it is recommended that users follow the relevant Joomla blogs and communities. Doing so will ensure that they know about the latest enhancements, tools, and plugins for Joomla. Additionally, readers should be sure to get the right hosting environment for their CMS choice so that their website can take full advantage of the features the CMS offers.
Overall, Joomla is an excellent CMS for web developers of all levels of experience. Those who are looking to start building a website should consider the benefits of Joomla, and see if it meets their needs. But it also pays to take the time to explore the other CMS options, and decide which one is best for them. Until then, we will just have to wait for the latest releases from Joomla to find out what else they have in store.
F.A.Q.
1. What is Joomla?
Joomla is an open source content management system (CMS) which enables users to build an online platform for managing and publishing content. It is extremely user friendly and requires no coding experience to create and maintain a website. It also offers versatile security features, a range of templates, media management, and many other features.
2. What are the advantages of using Joomla?
Using Joomla allows users to create a highly functional website quickly and without the need for specialist coding skills. With a comprehensive range of integrated features, users can manage content, create or integrate various media, and implement sophisticated security safeguards. A range of templates are available should users wish to customize their website's look and feel.
3. How much does Joomla cost?
Joomla is an open-source software and therefore is available free of charge. There is no cost associated with using the software, however some features require upgrades or extensions which may incur a cost.
4. How do I install Joomla?
Joomla can be installed in a few simple steps. Firstly a web hosting account and a domain must be obtained for the website. Once this is setup, the Joomla software can be downloaded from the Joomla website and uploaded to the web hosting account. The software must then be configured and installed using a web-based installer.
5. What type of support is available for Joomla?
There is an extensive community of Joomla developers, users and support staff who are all available to help users on the official Joomla forums and via other online resources. The official Joomla website also contains detailed support documentation, tutorials and knowledge bases to help users get up and running and maximize their Joomla experience.